Apple, Prawn & Pork spring rolls with Apple & Sweet Chilli dip
Serve the hot spring rolls on a lovely tray with several bowls of dipping sauce to pass around at a family gathering. These little rolls heat up well after their initial frying so they can be made in advance. 
Ingredients
24 x 15cm spring roll wrappers
1 small egg beaten with 1 tsp water
300ml Sunflower oil for frying
For the filling
150g raw shelled and deveined prawns
1 ½ Pink Lady® apple cored and finely chopped
250g organic outdoor reared pork mince
3 spring onions finely chopped
50g fresh bean sprouts rinsed, patted dry and chopped
1 medium red chilli deseeded and finely chopped
3 cm piece ginger peel and finely grated
4tsp light soy sauce
1/2 tsp salt
1/2 tsp sugar
For the dip
½ Pink Lady® Apple cored and finely chopped
8 tbsp sweet chilli dipping sauce
A few coriander sprigs to serve
Method
Finely chop the prawns and put into a large bowl and add all the other filling ingredients up to the pastry wrappers. Mix really well with your hands to combine. Divide the mixture into 24 and put on a tray.
Peel off 3 spring roll wrappers at a time and lay some mixture at an angle across a corner and roll once, bring in the sides of the wrapper and roll completely (not to tightly) brush the point of the square with a little egg mixture and secure. Repeat with the rest putting them on a tray and cover with a clean tea towel as you go.
Heat the oil either in a large wok. Fry 4 at a time, first on a low heat (this ensures they are cooked through) for 2 minutes without browning. Increase the heat to 175°C and fry until golden and crisp, drain on kitchen paper.
To make the dip mix the apple into the chilli sauce and serve with the hot spring rolls. Scatter over the coriander springs.
Recipe courtesy of www.pinkladyapples.co.uk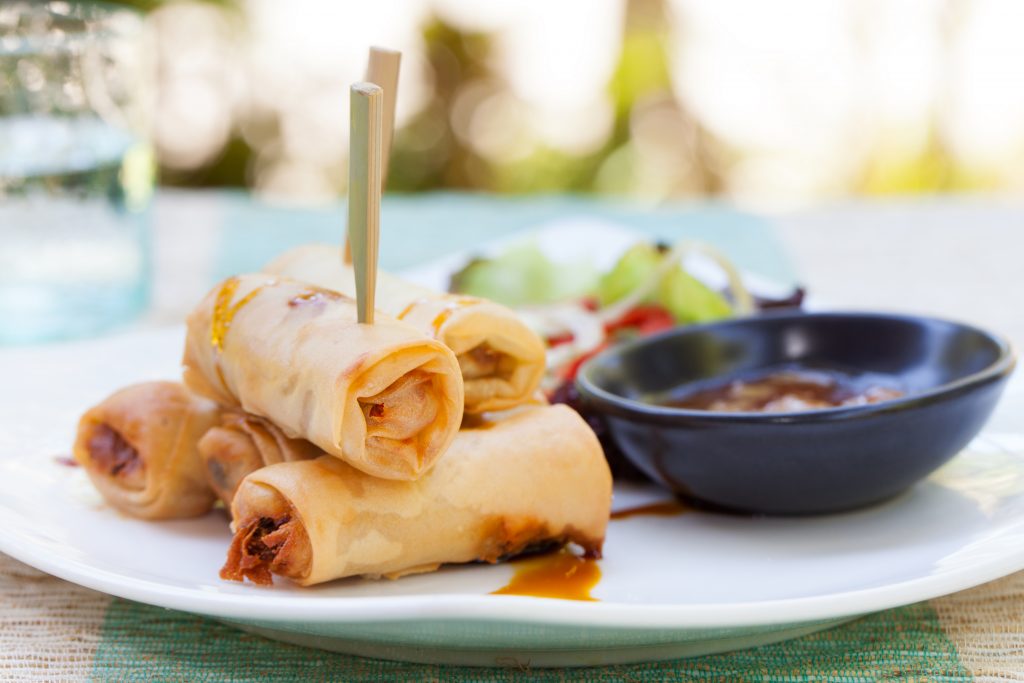 Cook
25 minutes including re-heating