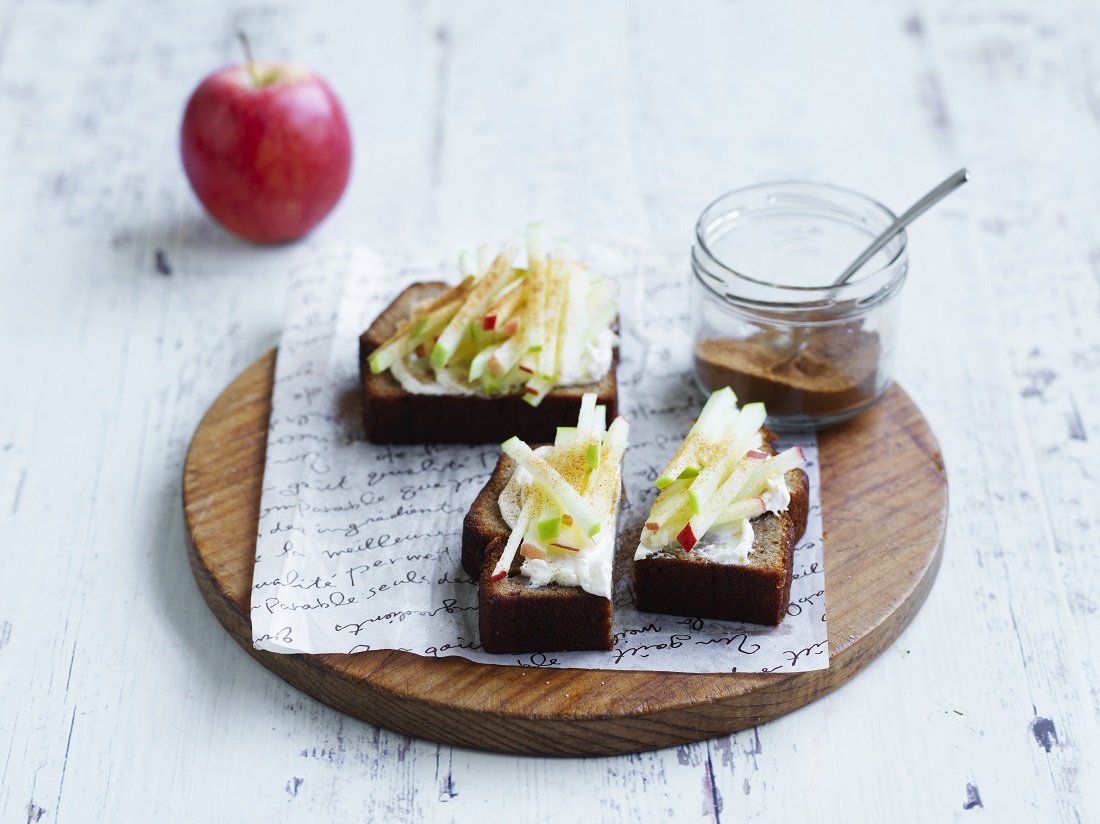 Aussie Apples are not only delicious, but they also contain essential nutrients. They are a source of fibre, which promotes good digestive health, and they contain antioxidants. They are also a source of vitamin C, which supports muscle, cardiovascular and brain functionality, and they are low GI. This means that crunching on an apple is a great healthy snack for kids and adults.
Here are 10 easy ways to add at least 1 apple a day to every meal you eat.
Breakfast
Green smoothie: Start the day with a green smoothie packed with fruit and veggies. The addition of an apple makes it sweet and easy to drink. Juice or blend 1 cup blanched spinach, 1 cup chilled coconut water, 1 apple, 1 Lebanese cucumber, 1 peeled chopped kiwi and a handful of mint or parsley with a little grated fresh ginger.
Breakfast bruschetta: Spread toasted sourdough bread with reduced fat cream cheese or spreadable ricotta. Top with thinly sliced apple and sprinkle with a little cinnamon sugar or drizzle with honey to finish.
Mid morning
Apple tzatziki: stir grated apple into a thick Greek yoghurt. Add chopped mint. Sprinkle with dukkah and enjoy on rice crackers.
Lunch
Chicken and apple tabbouleh salad: Combine soaked cracked wheat (burghul) with diced red and green apple, diced tomato, cucumber and lots of chopped parsley and mint. Add chopped green onion and shredded chicken. Dress with extra virgin olive oil and lemon juice.
Apple and vegetable rice paper rolls: Soak thin rice noodles. Coarsely shred apple. Shred lots of vegetables like cabbage, carrot, snow peas, zucchini and radish. Top pre dipped rice paper sheets with noodles, vegetables and apple. Roll up to enclose the filling and serve with sweet chilli sauce for dipping.
Afternoon snack
Apple & Banana bread: Spread sliced banana bread with reduced fat cream cheese. Cut apple into matchsticks and pile onto the banana bread. Sprinkle with a little cinnamon sugar or drizzle with honey to finish.
Apple pikelet stack: mix reduced fat cream cheese with honey and a touch of cinnamon until smooth. Spread over two pikelets. Top each with thin wedges of apple and drizzle with a little honey. Place one on top of the other.
Dinner
Apple fried rice: Sauté green onions and diced bacon until soft. Add diced apple and cook until lightly coloured. Add cooked long grain rice, diced capsicum, fresh corn, peas and soy sauce. Finish with shredded omelette. Serve on its own or with chicken or sausages. Leftovers make a great lunch or after school snack the following day.
Apple and pork san choy bau: Sauté garlic, ginger and pork mince until lightly coloured. Add diced apple, some soy, oyster and sweet chilli sauce and cook until thick and sticky. Pile into lettuce leaves and top with bean sprouts, coriander, sliced chilli and chopped peanuts.
Evening treat
Apple and ginger tea: Grate an unpeeled apple and a 2cm piece of ginger into a jug. Pour 1 cup of boiling water into the jug. Cover and stand for 1 minute. Strain into a heatproof mug. Sweeten with a little honey if needed. This is a calming drink to enjoy before bed.