Apple pops

Ingredients
3 large apples
1 cup soda water, chilled
150g each of milk, dark and white chocolate, melted
Toasted shredded coconut, chopped pepitas, chopped toasted macadamia nuts, hundreds and thousands, crushed Anzac cookies and emoji decorations, for decorating
Method
Quarter, core and cut apples into thick wedges. Place into a bowl, cover with chilled soda water. Refrigerate 15 minutes (this prevents apples browning).
Line tray or board with baking paper. Remove one-piece apple at a time from the soda. Pat dry with paper towel then insert a lollipop or paddle pop stick into the apple. Dip into milk, dark or white chocolate. Sprinkle with coconut, pepitas, macadamia nuts, hundreds and thousands, Anzac cookies or top with an emoji decoration.
Allow to set. Serve.
? Granny Smith, Pink Lady®, Jazz™, Red Delicious, Fuji, Kanzi™ and Royal Gala are all great for this recipe
Tip On a warm day place the pops in the fridge to set.
Tip Don't discard the soda water, it's delicious to drink with a slight apple flavour.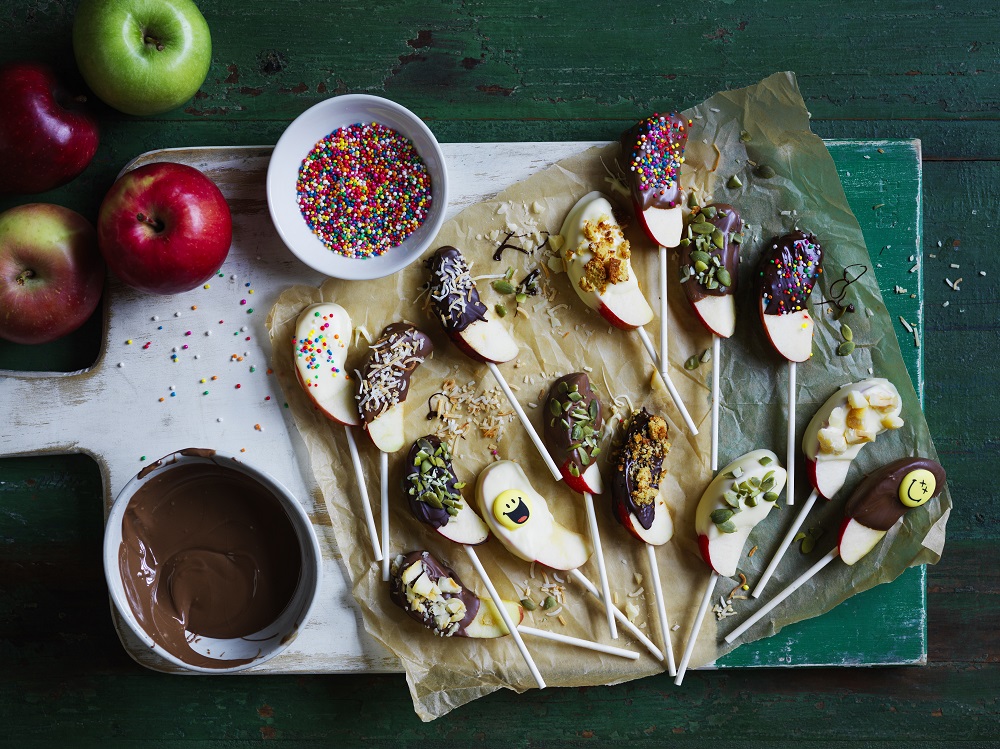 Prep time
30min +
15min Setting